Great Newspaper Headlines
Got these in an e-mail... The NBC watermark makes me think someone might have grabbed them from Leno. :-)
---

What goes around comes around!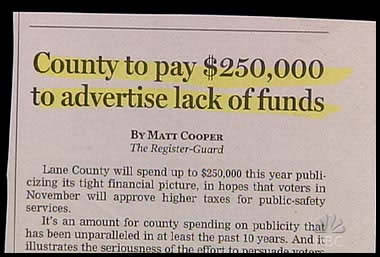 Civil War planes? Lemme know how that works out.



And you wonder why...



Yeah, don't you hate those guys at DOE who do the NEPA's EIS on BNFL's AMWTP at INEEL after SRA protests?



We had no idea anyone was buried there.



Wouldn't do it again says the hero. She's been a pain this week.



Please, if you've seen this man.



What are the odds of that?



20 is the new 18?



Here's the winner of a local dog look-alike contest... He does look exactly like his dog!



Ok, that's just mean.

©2019 Taylor Anderson
The Good Stuff
Japan Stuff is here, though the content is still limited.
Barbershop Stuff contains links to great resources for four-part Barbershop-style harmony. Nothing at all to do with cutting hair...
Unigraphics NX Stuff will be here, though there's nothing there yet...
Web Design Stuff is here, though the content is still limited.
LDS Stuff is here. Articles and content regarding the Church of Jesus Christ of Latter-day Saints.
Fun Stuff is here. Humor and games -- stuff to make you laugh and/or burn inordinate amounts of time.
The FAQ is here. Organized questions, random questions, more coming later, of course...
Photo Gallery is here.